Guangxi cold chain logistics channel unimpeded ASEAN fresh domestic market
On May 27, guangxi Beibu Bay International Fresh cold chain Park (phase I), the largest and most modernized cold chain logistics park in southwest China establish and operated by Guangxi Supply Chain Service Group, a large state-owned enterprise directly under guangxi Modern Logistics Group, officially opened in Fangchenggang, Guangxi. The opening and operation of the park opened up a new track for guangxi modern logistics industry and successfully opened up the core professional market network of China-ASEAN cold chain. At the opening ceremony, the park signed on-site cooperation contracts with 30 enterprises.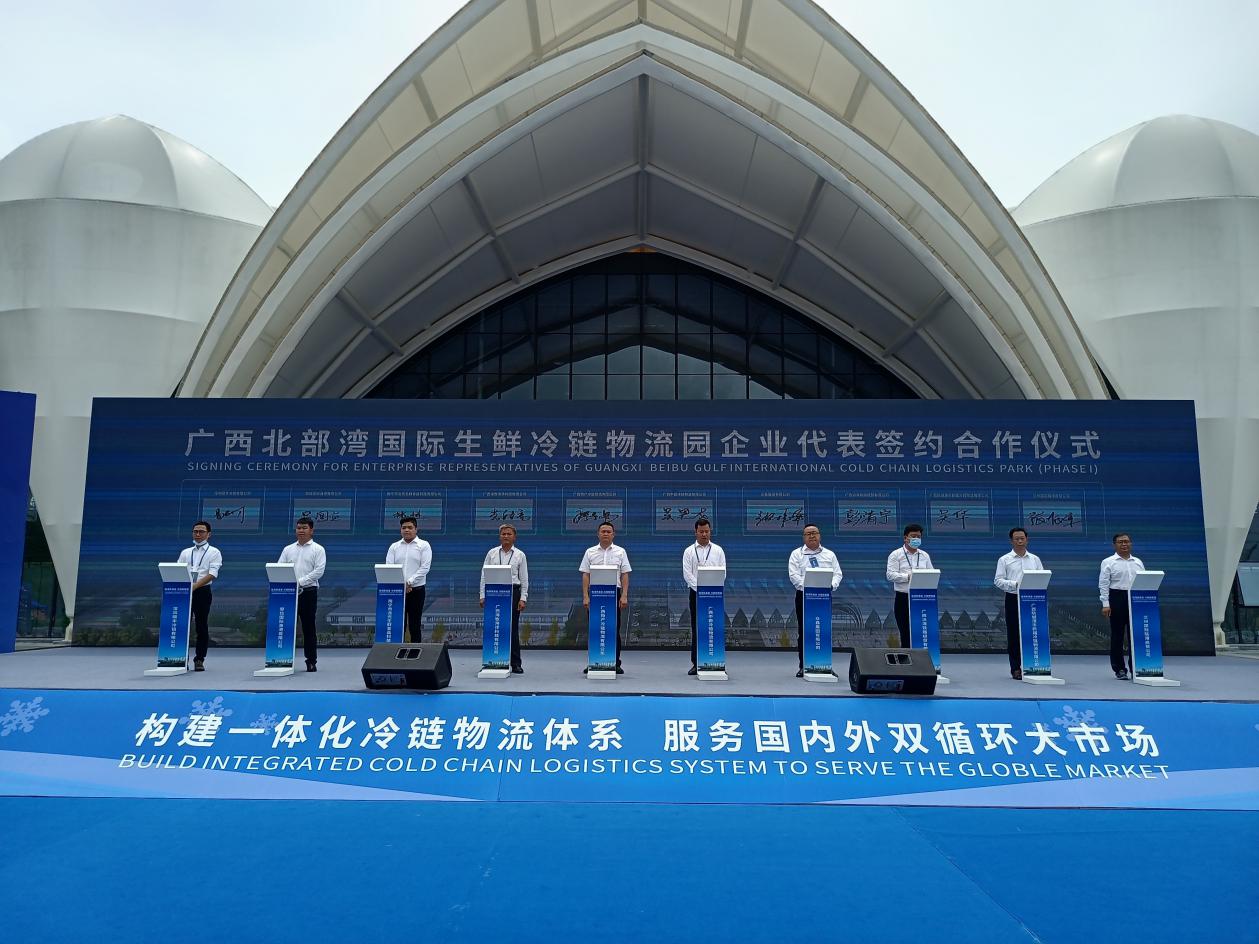 Regional commission ai-bin tang, the autonomous region of beibu gulf economic zone construction management office deputy director of the secondary inspector tain open macro, modern logistics group chairman, party secretary of guangxi Dai Yi, vice mayor of the people's government of the guangxi shen pan east, modern logistics industry group in guizhou, guangxi beibu gulf investment group, guangxi beibu gulf port group international, fangcheng, macro in guangxi guangxi capital operation group The opening ceremony was attended by leaders of relevant enterprises and institutions of Hong Kong Municipality, leading members of Guangxi Modern Logistics Group, leading members of Guangxi Supply Chain Service Group, 220 logistics industry representatives from 16 provinces and cities, participating enterprises and cooperative enterprises, and project builders. The opening ceremony will be broadcast live nationwide and at home and abroad.
Guangxi beibu gulf international fresh cold chain logistics park is the national major project library storage project, the autonomous regional infrastructure for short three years great battle "five network construction project, the autonomous region" difference "key project planning, the logistics network conference three years cold key construction projects, the logistics network for three years for the construction of the great battle important achievement, for the promotion of regional logistics infrastructure construction level, pulling Local economic development has made important contributions. Guangxi beibu gulf international fresh cold chain logistics park the formal operation (first phase) and the guangxi zhuang autonomous region in southwest China will fill strong cold chain logistics infrastructure and large board blank of cold chain logistics base, through the "north-south convection" node, the china-asean food cold chain safety demonstration of channels, build in the domestic and international new development pattern dual cycle, services, links, the association of southeast Asian nations (asean) of the country's modern logistics The hub function adds new impetus to the development of Guangxi's economy toward the sea, and serves as an important link in the construction of a new development pattern and a unified national market.
Guangxi Beibu Gulf International Fresh cold chain Logistics Park with a total investment of 4 billion YUAN, a total area of 1800 mu, divided into three phases of construction. Among them, the first phase covers an area of 600 mu, with a total investment of 1.262 billion yuan, and the construction of cold storage capacity of 200,000 tons. After reaching the end, the annual storage and processing capacity of 200,000 tons of fresh food can be formed. After the completion of the third phase of the project, it will form an annual storage and processing capacity of over 600,000 tons of fresh food. Park with agricultural products and cold
Chain food logistics, processing and trade as the core, with warehousing, trade, distribution, processing, multimodal transport, supply chain finance function six big advantage, location advantage, can be reached within 15 km radius of fangchenggang all port, relying on the aquatic product resources and fishing port economic zone of pan beibu gulf coastal city of fangchenggang two-way cold-chain channel and the land and sea port advantage, can link up with the association of southeast Asian nations (asean), Europe and China's vast domestic market, to create a modern large-scale cold chain logistics integrated service platform.
Guangxi beibu gulf international fresh cold chain logistics park based on the beibu gulf economic zone of the location advantage, in "the way" construction, western Lu Haixin channel construction and dongfeng RCEP policy, a large bay area of guangdong and east strengthening inter-operability strategic docking and cold chain logistics, to undertake a large bay area of guangdong industrial transfer, to forge a dual channel south to the land and sea fangchenggang cold-chain logistics center; Deepen cold chain logistics cooperation among countries along the belt and Road with ASEAN as the focus southwards, gather circulation elements of the two markets of China and ASEAN, and form a new pattern of "grand logistics" with two-way circulation of regional cold chain logistics. We will move westward to make use of the new western land-sea corridor, coordinate the development of the western economic belt, and integrate it into the high-quality development and opening up of the inland, coastal, river and border areas of the western region in all respects, so as to help form a strategic corridor with a new pattern.
At the same time, by taking advantage of the location advantage adjacent to Southeast Asia, the link between northwest and southwest regions will be widened through channel construction, so as to promote the rational layout and transformation and upgrading of the cold chain industry, and help Fangcheng Port become an important driving force for the high-quality development of logistics in western China through the new western land-sea channel.
Looking into the future, Guangxi Beibu Gulf International Fresh cold chain Logistics Park has a promising development prospect. By the opening day, the contracted area of the park has reached 90%, the total contracted leased area is 80,000 square meters, and the storage volume is expected to reach 300,000 tons per year. The contract covers cold chain transportation, breeding and fishing, import and export trade, cold chain train, cold chain processing and other areas, covering processing center, room temperature storage, cold storage, exhibition and trading center and so on. In the next step, the park will continue to cooperate with logistics, processing and trade enterprises in the fields of china-asean agricultural products and cold-chain food, so as to share the splendid chapter of open cooperation with all sectors of society in the trend of integrated development.
Penafian: Artikel ini diterbitkan semula dari media lain. Tujuan mencetak semula adalah untuk menyampaikan lebih banyak maklumat. Ini tidak bermakna laman web ini bersetuju dengan pandangannya dan bertanggungjawab ke atas keasliannya, dan tidak menanggung tanggungjawab undang-undang. Semua sumber di laman web ini dikumpulkan di Internet. Tujuan perkongsian adalah untuk pembelajaran dan rujukan sahaja. Sekiranya terdapat pelanggaran hak cipta atau harta intelek, sila tinggalkan mesej.