A series of creative videos featuring impressive selling points such as "3% Ectoin" and "2-in-1 Makeup Setting and Repair" in large fonts were seen all over major business districts on the walls of office buildings in the past few days. They were produced by PRAMY, a professional makeup brand which, for many years, has kept a low profile in communication despite constantly dominating lists of top makeup setting products. By releasing this set of videos, the brand is officially making its voice heard for the first time.
Since its inception, PRAMY has made a preliminary attempt in the field of makeup setting, and began to focus on professional makeup setting in 2018. By upholding the idea of "trading time for space", the brand has gained popularity among consumers by launching a number of highly-rated makeup setting products of timeless charm through technological innovation and the overcoming of barriers. Among them, the Moisturizing Makeup Setting Spray familiar to beauty lovers remains the top seller in its category for three consecutive years, and the Translucent Loose Powder has been the proud winner of multiple beauty awards, thanks to PRAMY's strict control of product formulas, packaging materials and structure, and the production process. The star of the show, PRAMY Multi-Repair Makeup Setting Spray, is the world's first makeup setting spray to be formulated with 3% Ectoin. As a great innovation in functional makeup setting, the product garnered a lot of attention when it debuted at the 2021 China Beauty Expo.
How is it that a low-key brand like PRAMY boasts such an amazing track record? How did they reach beyond the niche community again and again with their makeup setting products? Let's find out.
Exploration: Focusing on the makeup setting vertical & empowering brand development through product innovation
Makeup setting was still an untapped category in China when PRAMY first set foot in it. And products in this field were considered a beauty "niche" even in the international market. It was under such circumstances that PRAMY blazed a trail and achieved a breakthrough from scratch, bringing the new concept of makeup setting to consumers.
Research and development (R&D) and innovation are a source of confidence for PRAMY that emboldens its unswerving focus on the makeup setting market. As a professional cosmetics brand with years of experience in makeup setting, PRAMY has, after many tough challenges, come up with its own approach: By tracing the product to its source and proceeding from customers' pain points, it aims to effectively meet diverse makeup setting needs through R&D and innovation.
This passion for innovative R&D is epitomized by PRAMY's newly-released Multi-Repair Makeup Setting Spray. From product inspiration and the selection of raw materials and suppliers, from cooperative R&D to the proportioning of ingredients, every last detail represents the brand's focus on R&D and pursuit of product excellence.
External stressors such as blue light from electronic screens and airborne particulates are increasingly aggravating, causing damage to the skin of more and more consumers. With that in mind, PRAMY teamed up with Merck, a world-leading biotech company, to create the 2-in-1 Multi-Repair Makeup Setting Spray based on an innovative formula containing 3% Ectoin. The setting spray, which is the final step in makeup, has now been elevated to the first step in fending off external stimuli.
There are a lot of skin repairing ingredients on the market. But it's difficult to find one that restores the skin barrier without colliding with the makeup setting ingredient. As a water-soluble small molecule active ingredient, Ectoin can penetrate into the stratum corneum through the gap between foundation makeup particles to repair damaged cells, and its permeability is proportional to the water content of the skin. Specifically, Ectoin can effectively resist cell inflammation and damage induced by environmental pollutants, heat, bacteria, UVA and UVB rays, etc., and keep skin hydrated through the "3D water clusters" around its molecules. In addition to preventing and repairing cell damage, it helps increase the skin's self-healing speed by 3-4 times by accelerating the expression of heat shock proteins (HSPs) at high temperatures, thereby boosting skin rejuvenation.
It is worth mentioning that the Ectoin used in this product comes from Merck, holder of 14 Ectoin-related patents in cosmetics which insists on rigorous standards for its partners. The cooperation between the two, therefore, bears testimony to PRAMY's strict control of raw materials and the recognition of its brand philosophy by the world's top supplier.
Finding the right ingredients is just the beginning. To create a product that combines skin repair with makeup setting, getting the right mix of ingredients is also crucial. In collaboration with Merck's laboratory in Germany, PRAMY has conducted several contrast experiments on different proportions of Ectoin (0.5%-4%). The findings show that sufficient skin repair cannot be achieved with 0.5% to 2% Ectoin, while adding over 3% will slow down the film forming process, resulting in a poor makeup setting effect. Only at a proportion of precisely 3% can Ectoin work in effective synergy with the PC5778 & VP/VA copolymer, the film-forming agent, and highly-moisturizing 4D hyaluronic acid. A unique multi-dimensional makeup locking system can also be formed which enhances the skin's capacity for barrier restoration and moisture retention respectively by 63.7% and 63.7%. Offering 12-hour long wear, the end product repairs and hydrates the skin while keeping a vibrant makeup look, making it a must-have for people with a compromised skin barrier.
This obsession with details and the control of efficacy are the reasons why the R&D process of PRAMY Multi-Repair Makeup Setting Spray took 18 months, generating an efficacy test report for each of the product functions. Such rigor and professionalism is rarely seen even in the entire beauty industry.
Focus: Refining products down to every last detail for a longer product life cycle
Fancy marketing stunts do attract a lot of traffic in today's market, especially for color cosmetics such as lipsticks and eyeshadows. But things are different in professional makeup setting, where more attention is paid to the actual effect, rather than novelty, of products. Consumers of such products also tend to be more critical and less tolerant. To win the hearts and minds of consumers with a product, it is more important to make one that truly stands the test of time than to frequently launch a new edition.
Unlike brands that are made Internet famous through a marketing strategy involving a short cycle, little investment and quick results, PRAMY is on a constant quest for perfection in designing and making every one of its products. From formulation to packaging, the brand keeps honing in on every detail to the point of obsession and seeking practical makeup setting solutions to extend the life cycle of products, ultimately creating authentic and effective products with enduring appeal.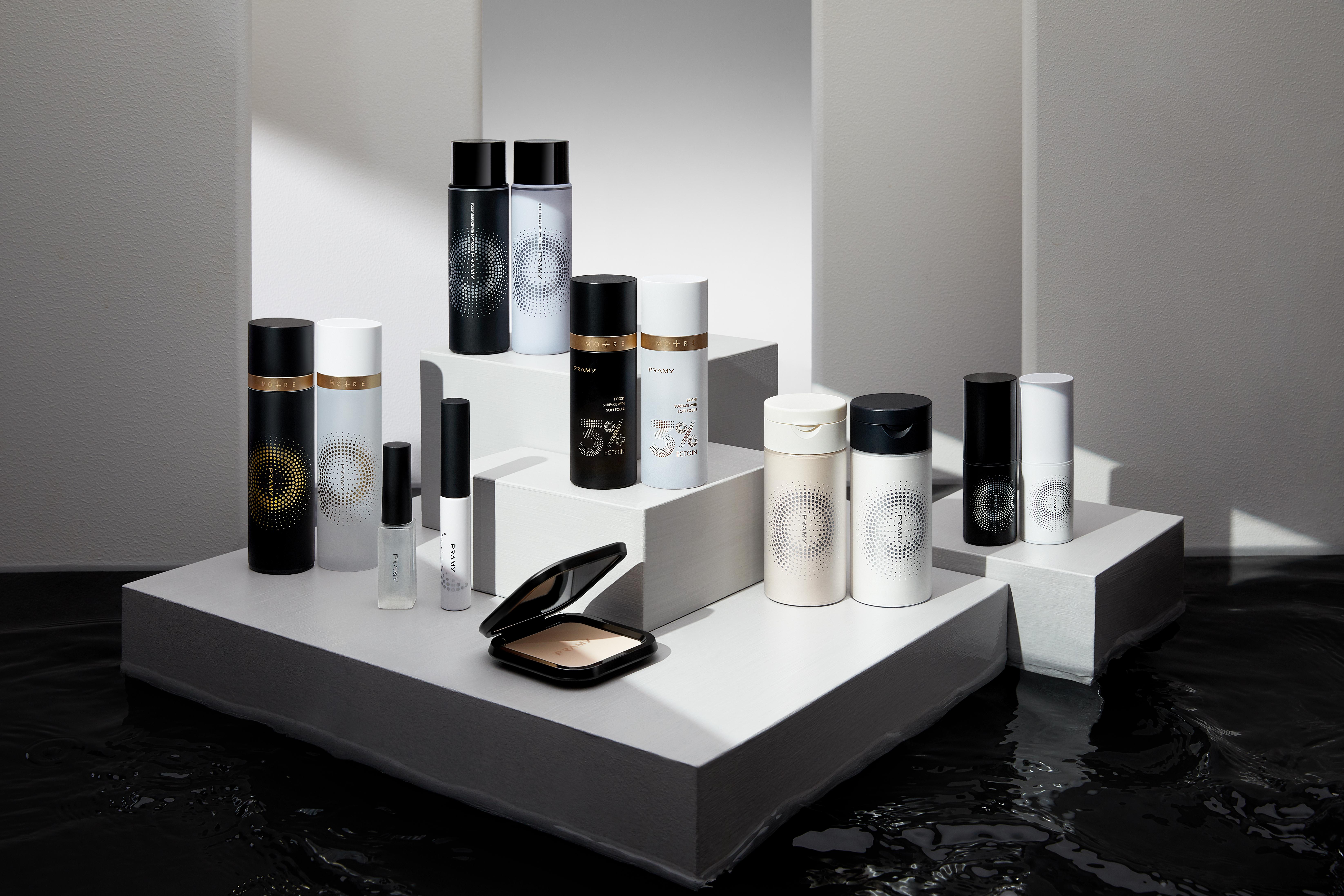 Take the Moisturizing Makeup Setting Spray—PRAMY's best-seller over the years—as an example. To help consumers truly experience the exceptional makeup setting effect of the product that forms a coating in 15 seconds to lock in your makeup for up to 12 hours, even the humblest spray pump is designed with fine workmanship: A consistent and even mist, ultra-fine water particles and the appropriate level of pressure when you press the pump are combined and perfectly balanced to deliver the best effect and experience. Through repeated experiments, PRAMY has overcome the difficulties in making the pump mold: They have produced a nozzle with extremely small apertures of about 0.2mm (200μm) and a water mist with an astounding average particle size of 30μm, so that the ultra-fine mist melts into your skin upon contact; A booster pump with a stronger internal force is used to generate instantaneous pressure during compression which interacts with the tiny nozzle apertures, allowing sufficient time for the mist to cover the whole face while making it ultra-fine; Based on the habit of Asian people, PRAMY has adjusted the pump pressure to the most ergonomic 2kgf (kilogram-force) so that when the user holds the bottle at about 30cm away from the face with the arm raised to about 15 degrees, the habitual posture for setting makeup, the product will adhere nicely to the skin and truly preserve a seamless look with just one gentle spray.
PRAMY's meticulous attention to detail in creating its products has eventually won over consumers. In addition to topping the sales chart in its category for three years in a row, the Moisturizing Makeup Setting Spray has also set a new record with one bottle sold every ten seconds. It has received multiple major awards in the industry, including the Top Makeup Setting Award in the Cosmetics Category of the 2021 CBE Meiyi Awards, OK! Magazine's Pick of the Best Makeup Setting Spray award, and the Must-Buy Hi-Tech Makeup Setting Spray award on the Pick Me! COSMOBOX list of must-buys, and was among the finalists for the 2021 Tmall Beauty Award. As illustrated above, the brand continues to receive consumer support and industry recognition.
Dynamic: Building every product with genuine passion, driven by consumer needs
Rather than following the trends set by others, PRAMY has made it clear by choosing professional makeup setting that it will remain committed to this niche. This is why in researching and developing new products, the brand has stayed away from the sales-driven and traffic-oriented approach and instead truly listen to what consumers have to say. With its products as a lever and the consumers as the fulcrum, PRAMY strives to move the market by trading time for space.
One example is the Translucent Loose Powder launched by PRAMY. As more and more consumers demand a better makeup setting result, the baking technique is beginning to take its turn in the spotlight. The market is in urgent need of a loose setting powder that is perfect for professional makeup baking and can be used generously. However, maintaining the activeness of its ingredients becomes a challenge as this powder will be in frequent contact with the air due to repeated pouring. Tackling the difficulty head on, PRAMY launched the Translucent Loose Powder packed in an extra-large 100g bottle with its innovative use of the vacuum filling process commonly seen in liquid filling and the rotary powder control technique to ensure the packaging is airtight. The result is a bottle that can be easily held in one hand and powder that remains as fresh as when it was first opened, delivering a long-lasting makeup setting experience to consumers.
Furthermore, to continuously launch products that cater to the market, PRAMY has formed a closed loop from R&D to consumer feedback: obtaining direct data through regular questionnaire surveys and user follow-up by the marketing department and tapping the communities built by brand lovers to get more honest opinions and suggestions through frequent interaction within groups. Through such in-depth multi-channel interaction that combines rationality with sensibility, a strong bond has been established between brands and consumers, empowering the brand with enough confidence to maintain its steady pace of product R&D and tailor each new product to every specific need of consumers.
According to reports, PRAMY is expected to launch a series of new products, including the Long Wear Eyebrow Topcoat and the Long Wear Eyebrow Primer. From makeup setting for the whole face to partial makeup setting, the brand will continue to complete its product lineup and fill gaps in the market.
With a focus on products and expertise in R&D, PRAMY has remained committed to the pursuit of "Focus, Exploration and Dynamic" since its founding, integrating the spirit of innovation into professional makeup setting to polish up every product while sharing and co-creating R&D results with its consumers and providing multi-dimensional solutions for the diverse crowd. At the same time, the brand's passion for R&D excellence will also provide insight into the breakthroughs and innovations in product categories and inject new vitality into the development of the beauty industry.
Penafian: Artikel ini diterbitkan semula dari media lain. Tujuan mencetak semula adalah untuk menyampaikan lebih banyak maklumat. Ini tidak bermakna laman web ini bersetuju dengan pandangannya dan bertanggungjawab ke atas keasliannya, dan tidak menanggung tanggungjawab undang-undang. Semua sumber di laman web ini dikumpulkan di Internet. Tujuan perkongsian adalah untuk pembelajaran dan rujukan sahaja. Sekiranya terdapat pelanggaran hak cipta atau harta intelek, sila tinggalkan mesej.